Limoges in South-Western France is a little out of the way for the majority of tourists on a short visit to France. This in itself is an excellent reason for making a detour to this area to appreciate the unhurried culture and gastronomy of the region.
We combined our trip to Limoges with visits to Bordeaux and Saint-Léonard-de-Noblat for a one-week mini-tour of this area of France.
Getting In and Out of Limoges
Ryanair recently included Bordeaux in its schedules, which makes it a cost-effective destination as well as a practical starting point for a train journey to Limoges.
Trains between Bordeaux and Limoges run regularly, but only a few are direct. If you want an uninterrupted trip with no changes, you'll need to plan your journey accordingly.
We paid €54 per person for a 1-way trip. We booked online with trainline, which can be cheaper than paying at the station (and will save you some time).
We had a direct connection for the 2½ hour journey, and arrived at the Gare de Limoges-Bénédictins central station in the early afternoon.
The station is a monument in itself, bordering on a small park. Inside it's clean, modern and orderly, feeling more like an airport than a train station.
Hôtel de Paris, Limoges
We had booked one night at the Hôtel de Paris, just 10 minutes walk from the train station, on the other side of the Champs de Juillet park.
We arrived at the Hotel at 1 pm but check in wasn't until 3 pm, and the place was closed. Not a great start, since we'd planned to drop off our bags here early while we had a picnic in the park.
In any case, we walked around the corner to the nearest Carrefour Express, bought wine and sandwiches and headed back to the park for our picnic. We found a nice spot in the sun, and settled down for the next hour or so.
As we'd entered the park, we noticed groups of young people with hoodies, and a few others who seemed off their heads. So, it was no real surprise when a police car started slowly patrolling the park, stopping now and then to 'talk' with (and body-search) the regulars.
Still, nobody bothered us, and we finished our picnic before returning to the hotel to check in.
As with our hotel in Bordeaux, the Hôtel de Paris is a 300-year-old building that has been converted into a modern 3-star hotel. It retains much of the charm of a period hotel, but also the peculiarities of an old building.
Although officially sound-proofed it felt like our neighbours were living in the same room, and we could hear every footfall from the room above.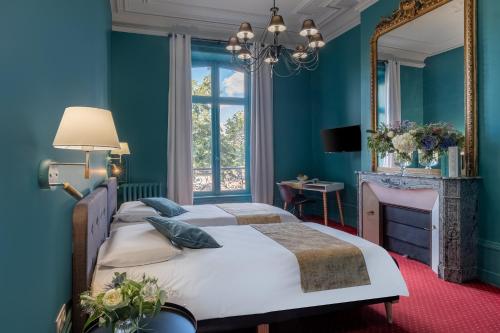 Breakfast was very satisfying, with cold cuts, fresh bread and pastries, eggs, and a complete selection of beverages.
Don't forget your adapter!  Make sure you take along with you a suitable adapter for France so you can charge your mobile equipment. These are not easy to find once you get there, and not all hotels will supply them.
We paid €133 at the Hôtel de Paris for 1 night including breakfast for two.
Limoges City & Dining
Limoges is a very walkable Medieval city perched on a hill. From our hotel, it took just 20 minutes to walk uphill to the centre.
There is a good variety of shops, but be aware that most restaurants don't open their kitchens until 7:30 pm, and many of them are closed on Sundays & Mondays.
We dined at Les Petits Ventres restaurant, located in the heart of the old town on the Rue de la Boucherie.
We originally planned to try either the highly recommended L'Agape or Chez Alphonse restaurants, but both of these appeared to be temporarily closed.
In any case, Les Petits Ventres was suggested to us by our host at the Hôtel de Paris (and included a free aperitif!).
We arrived an hour or so early, so had a few drinks at Le Duc Etienne bar, just opposite (a great place if you enjoy a pub ambiance and retro music).
Our meal at Les Petits Ventres was just about OK, but there was plenty of choice on the menu. We chose a starter and main course each, and at €73 for two including a 50 cl pichet of Bergerac Rouge and sparkling water, it didn't break the bank.
Inside it was very clean with a friendly, cozy atmosphere.
Les Puces de la Cité
Founded nearly 40 years ago in Limoges, the city's flea market is an unmissable event in the city. Flea markets and bargain hunters meet there on the second Sunday of each month.
Following our short 1-night stay in Limoges, we were next heading off by train to the nearby town of Saint-Léonard-de-Noblat. We planned to stay there for 4-nights in the newly-opened  Chateau Maleplane .
---
If you enjoyed this article about Limoges, take a look at our other Shorts Breaks and City Stops. You may also like: